Duxback™ News
'Imitation is the sincerest form of flattery'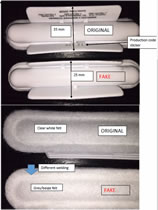 Please be aware of Fake products coming out of China.
They are designed to look like the Duxback applicator ampoule.
Fake product is identifiable by the shape of the applicator, see illustration.
Fake product uses a cheap ethanol silane mixture which does not last and barely works. Do not be fooled!
Only Duxback is tested and certified to work
Only buy Duxback from Duxback